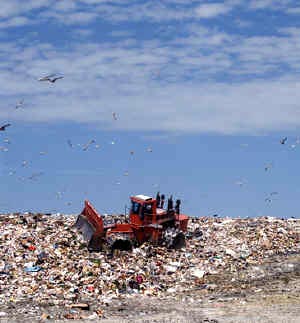 Waste Acceptance Criteria and Waste Characterization Testing
The Environment Act 1995 introduced the restriction and control of waste materials intended for landfill disposal.
In Scotland, The Landfill (Scotland) Regulations 2003 defined the criteria which must be used to classify any waste intended for landfill disposal.

Under these regulations, waste which is Classified according to the European Hazardous must comply with the Waste Acceptance Criteria in order to be disposed of to landfill.
There are significant cost implications if the waste is classified as hazardous, or non-compliant, so many waste producers - included those generating waste soils from site development - need to confirm the status of their waste before applying for landfill disposal.
The Legislation
The relevant legislation in Scotland is:
The Criteria and Procedures for the Acceptance of Waste at Landfills (Scotland) Direction 2005
The Contaminated Land (Scotland) Regulations 2000
The Landfill (Scotland) Regulations 2003
The Environment Act 1995
The Service
Caledonian Laboratories Limited offer a complete Waste Acceptance Criteria testing suite, including both total and leachable parameters.
We understand that in dealing with waste materials, time is of the essence and so Waste Acceptance Criteria is fast-tracked with analysis times significantly better than those of our main competitors.