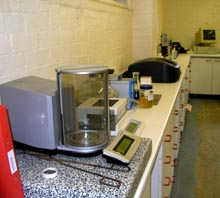 General Analysis Services
Agricultural Testing Services
Organic wastes, such as sewage sludge, agricultural wastes and composting materials, if applied correctly to agricultural land, can have a positive beneficial effect on soil fertility and soil conditioning.
In addition, the practice can have wider benefits in terms of reduced reliance on artificial chemical fertilizers, reduction on wastes going to landfill and habitat conservation.
While there are many benefits to the practice of applying Organic wastes to land, there are also a number of concerns regarding the practice.
The Legislation
The Scottish Environmental Protection Agency (SEPA) is currently carrying out a strategic review of the practice of applying Organic wastes to land.
The Service
Caledonian Laboratories Limited offer a range of chemical and microbiological tests for the assessment of the waste material, and the receiving soils prior to application of waste.
A standard suite of tests includes Potentially Toxic Elements, pH, availability assessments, nutrient tests(N, P, K, Mg), total organic matter and Ammonia.
Through an approved subcontractor, we can also offer a range of microbiological parameters, including TVC, EColi, Faecal Streptococci and Salmonella.


Civil Engineering Chemical Testing Services
The composition of a soil needs to be considered when designing and implementing civil engineering projects. Soils can contain materials which may react with construction materials, leading to loss of strength, instability and ultimately failure.

Caledonian Laboratories Limited offer a range of chemical testing services to assist civil and structural engineers assess the site conditions at their project.
Test Suites undertaken include:
British Standard 1377 Chemical tests;
Building Research Establishment "Special Digest 1" Chemical tests;
Highways Agency / TRL "TRL 447 Report" Chemical tests
In addition, we can offer a range of physical tests on soils through a number of approved subcontractors.


Rapid Turnaround TOC Monitoring
Following successful trials, Caledonian Laboratories Limited are pleased to announce the availability to all customers of our new rapid turnaround Total Carbon determination for waste water, process water, trade effluents and industrial process waters.
The service, which is available on SAME DAY turnaround provides customers with rapid assessment of both Organic and Inorganic Carbon contents of their water samples.
Customers who submit samples before noon, Monday-Friday, will receive an analytical report by 5pm on the same day detailing the following:
Test Suite 1
| | | |
| --- | --- | --- |
| Parameter | Units | Limit of Detection |
| Total Carbon | mg/L | 0.05 |
| Total Organic Carbon | mg/L | 0.05 |
| Total Inorganic Carbon | mg/L | 0.05 |

With costs lower than a typical 5-day BOD test, our rapid Total Carbon analysis provides valuable, rapid, information for managers responsible for monitoring the quality of discharges or process waters, allowing problems to be identified and rectified on the day they occur, minimizing the possibility of consent breaches, process quality control failure or other costly compliance consequences.


Construction Materials
Caledonian Laboratories Limited offer a range of analytical services for the construction industry. These include:
Cement Contents in concrete;

Chloride ion in concrete;

Mix Proportions in mortars, screeds and plasters;

High Alumina Cement identification;

Hexavalent Chromium in cement;