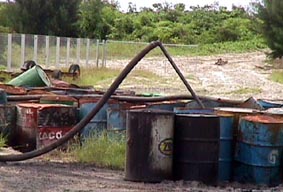 Contaminated Land Services
The Legislation
The main contaminated land legislation in the UK is:

The Contaminated Land (England) Regulations 2000
The Contaminated Land (Scotland) Regulations 2000 (these have been amended slightly - see here)
The Contaminated Land (Wales) Regulations 2000
The Waste and Contaminated Land (Northern Ireland) Order 1997
The Service
Caledonian Laboratories Limited offer a comprehensive chemical testing service to environmental consultants, site investigation companies, local government and land owners.
We work with our customers to ensure that the analytical suite used is appropriate for the site under investigation, taking account of past site use, the expected contaminants, and the requirements of the proposed development.
Where contamination is identified, we can offer a feasibility study to assist customers in the selection of a suitable remediation method.
In addition, as a small, customer focussed laboratory, Caledonian can provide services, not usually offered by our larger competitors on a routine basis:

For example, if your samples contain an obvious hydrocarbon odour, but you have failed to schedule hydrocarbon analysis, we will let you know that this may be an area of concern, giving you the option to increase your suite of tests. (does your current laboratory offer this service?)

Similarly, if unusual materials are found during the sample preparation phase of analysis, or if unexplained peaks or elements are identified during instrumental analysis, this can be relayed back to the customer who can then make an informed decision regarding the suitability of the site or the need for further analysis.